Information
MB "Sea Personals" has 7 years of experience in the selection and training of service personnel in yachting.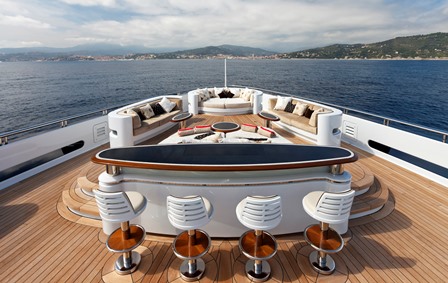 Our services:
-Yacht crew training
- Recruitment for the yacht
-Practice on a VIP yacht
-Consulting services
Thanks to the contracts concluded with crewing companies in Russia, France, Caribbean countries, "Sea Personals" has reached the world class level. We invite you to join the team of professionals!
Yacht stewardess responsibilities
Ensuring the safety of passengers and crew members of the yacht
Ordering groceries on board the yacht. Serving passengers with drinks and meals
Housekeeping (in the absence of a maid on a yacht)
Providing information to the passengers (showing the cabin, answering questions)
Maintain order and cleanliness on board. room decoration with flowers, fruit baskets, etc.
Requirements for the yacht crew (stewardesses)
At least completed secondary education
Spoken English (Elementary level is allowed during selection if the candidate is in the process of learning the language)
Absence of chronic diseases preventing work at sea.
Stress tolerance
Ability to work in a team.
Experience in the service industry is preferred
Successful completion of professional selection
For candidates without previous work experience on a yacht.
Candidates who have successfully passed prof. selection are sent to the compulsory training of the "Service Certificate" program in Vilnius and the Basic Safety STCW program in Klaipeda, with the issuance of international certificates. Training is paid and lasts 1 month.
The cost of the Service Certificate program is 990 euros. The cost of the Basic Safety - STCW course is 390 euros. Yacht cabin crew salaries range from 2000 euros to 2500 euros. Employment services are provided to graduates free of charge.
The process of employment of yacht crew/ stewardesses on a yacht:
Successfully passing selection with MB "Sea Personals"
For candidates without prior work experience and maritime documents: 1 month training
Checking the availability and validity of documents
Approval of the candidate's resume with the crewing company/employer
Skype interview with a representative of a crewing company/employer
Informing the candidate about the terms of the contract
Signing a contract for 3-6 months
Working conditions of flight attendants (stewardesses) of the yacht:
Work under the seasonal contract (from 3 months)
Free meals and accommodation
Medical insurance
For candidates with experience on a VIP yacht: salary from 2500 euros
For candidates without experience on a VIP yacht: average salary from 2000 to 2500 euros
The season depends on the base location (Mediterranean region - from April to October, Caribbean region - from November to April.)
Yachts bases:
Monaco
France (Antibes, Cannes, Villeneuve – Loubet)
Italy
Spain
Greece
Caribbean region countries.