Yacht crew training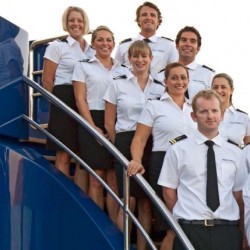 Our crew training course includes the Interior training program which is the standard for superyacht training.
If you want to start a career in a superyacht crew, or if you want to improve your yacht interior design skills, then this course is right for you.
The course price is €750.
Module 1 - Yacht Interior Introduction
Students will learn terminology and basic information that the crew of a yacht should know. This includes:
the required certification needed to work on board
ability to present yourself
all needed information to create a good cv.
In the exam, students must demonstrate the acquired knowledge and understanding of life at sea, understand the main areas within the yacht, as well as the chain of command.
Students are also taught:
the attention to detail needed to work on board
communication skills between crew members and the captain and how to communicate with guests
basic understanding and detailing of cabins, bathrooms and other guest areas
basic knowledge of cleaning and maintaining fabrics, surfaces
will become familiar with the typical finishes of a luxury yacht
students will learn the washing standards and the rules for caring for different types of fabric. They will learn how to perform duties efficiently and professionally. We will teach the crew the importance of health and safety in the maritime industry and how to identify hazards in the internal department.
Module 2 - Basic Food Service
This module will teach superyacht crew how to serve guests and demonstrate how to provide a variety of catering methods. On the exam, students must show -knowledge and understanding of the principles of serving guests -demonstrate knowledge of the classification of cutlery, dishes, glassware -methods of cleaning, polishing, storage.
After studying this module, students will learn how to properly work with a salver, set the table, know the order of serving and everything necessary for the correct table setting. They will learn how to decorate an interior with flowers.
Module 3. Introduction. Wine, bartender and mixology.
During this module, students will gain basic knowledge of alcoholic beverages of the world winemaking process for red, white, rosé, sparkling and fortified winegrape varieties and places associated with names found on the wine list. The difference between New World and Old World wine places of production of various popular spirits
Upon completion of this module, students will be able to identify key tasting notes, explain the differences between the four types of wines and demonstrate the main food pairings, as well as how to open and serve wine to guests on board yachts.
The aim of the course is to provide professional standards of luxury marine hospitality.
The program has a modular structure, with specifications, learning objectives and assessment criteria for each one.
An STCW certificate is also required to get a job on a yacht. Approximate cost 550 euros, training time 5 days